In this Pass the FE Exam article (and video above), I take you step by step through a type of problem you'll likely have to solve during the FE Exam as part of the hydrology/water resources section by calculating the amount of runoff from a commercial site. 
This sample problem has been provided to us by PrepFE. PrepFE is one of the most effective FE exam self-study prep services out there and happens to be one of the most affordable too.  It is an app that gives you access to countless sample FE problems to bolster your self-study efforts.
You can visit PrepFE here and use the discount code in the description of this video here to receive 10% off and get some great FE practice problems.
Question:
A 20-acre suburban commercial lot has stores and parking lots. The corresponding NRCS curve number is 97. What is most nearly the amount of runoff created after a 2.75″ rain event over the course of 24 hours?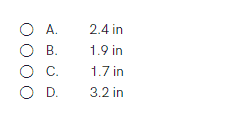 Solution:
[Read more…] about Water Resources Problem & Solution: Calculating the Amount of Runoff