To prevent unauthorized transcription and distribution of the exam questions, calculators with communicating and text editing capabilities have been banned by the National Council of Examiners for Engineering and Surveying (aka NCEES). You may love the reverse Polish notation of your HP calculator; however, you'll have to get used to one of the calculators NCEES has approved.
You should start using one of these approved calculators at the beginning of your study preparation, so that you are familiar enough with it by the time of the exam. Please note that the list of approved calculators is reviewed annually.  All of the articles we pulled information from for this post are listed at the bottom of this article.
The following calculator models are the only ones acceptable for use during the 2021 exams, as of the publication of this video:
       

Casio:

All Casio FX-115 and FX-991 models (Any Casio calculator must have "fx-115" or "FX-991" in its model name.)

       

Hewlett Packard:

The HP 33s and HP 35s models are permitted, but no others

       

Texas Instruments:

All TI-30X and TI-36X models are permitted (Any Texas Instruments calculator to be used must have "TI-30X" or "TI-36X" in its model name.)
It's not easy to always know what the best calculator for the FE exam would be, but here is some information, including pricing and customer reviews that might help a bit:
The Casio FX-115:
FX-115 covers any FX-115 models including the MS, MS Plus, MS SR, ES and the ES Plus.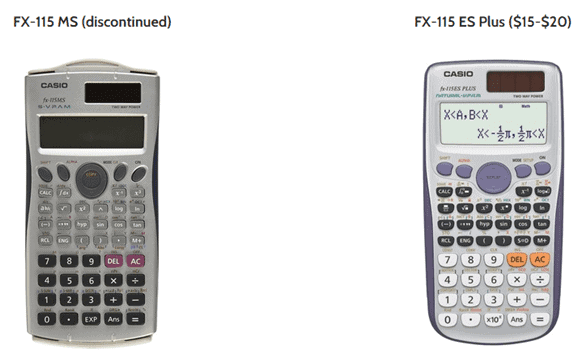 The Casio FX-115 ES Plus has some really great features including:
Free instructional videos. 
Mechanics.

The Casio is very lightweight. It is supported on four small nodules. This means it won't feel unstable when bashing on the keys during a quick calc. The FX-115 has a flat cover and back; it is stable.

User's guide.

The user's guide clearly explains the multi-line display, how the input and results are displayed, and how to perform the functions of the calculator.
The cost for the FX-115 ranges from approximately 15 to 20 US dollars and received 744 ratings on Amazon with an average of 5 out of 5 stars.
Texas Instruments TI-30X and TI-36X:
​These include many versions like the a, a-SE IIB, IIS Pro and some more…  
Both of the TI's (the 30X and 36X) are still on the market and readily available. The 36X is a little more money because it has a much better display screen. Many engineering graduates know how to use TI-89s and TI-90s. They are comfortable with the navigational layout of TI's menu system.
Because they already know these versions, most examinees will have an accelerated learning curve to adapt from a TI-89 to a TI-36X Pro. This time savings can used on doing practice tests and reviewing more problems. One benefit with going with a TI if you are already familiar with them.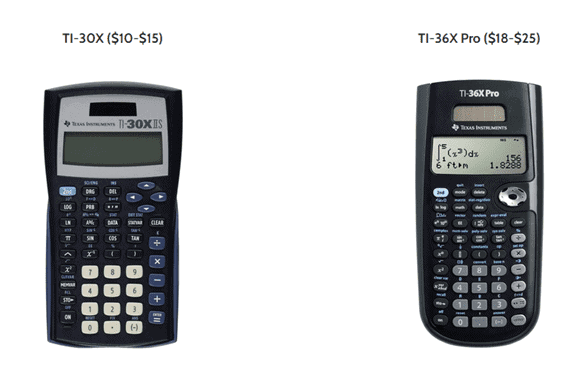 The cost for the TI-30X ranges from approximately 10 to 15 US dollars and received more than 22, 000 ratings on Amazon with an average of 5 out of 5 stars. The TI-36x pro calculator ranges from $18 – $25 and received more than 15,000 ratings on Amazon with an average of 5 out of 5 stars.
The Hewlett Packard models HP 33S and HP 35S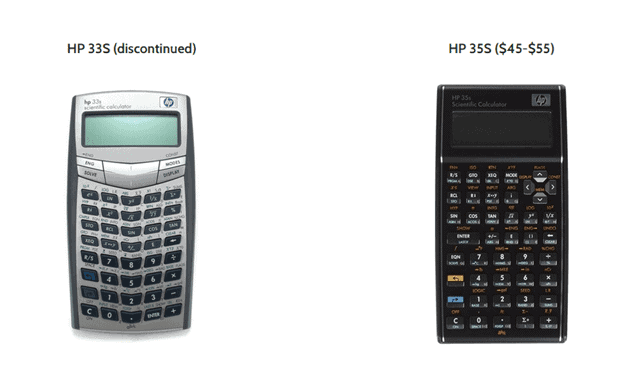 These are the only HPs permitted for the exam. The Hewlett Packard HP 35s is the better of the two options available from HP.
Both are programmable. Both have books available for sale on Amazon which include equations for the FE exam to enter into your calculator.
Many people choose this option when they have prepared extensively in advance. Others need less time to review (e.g. college seniors), so they have time to learn how to utilize the equations and the HP.
The bottom line here is to choose a calculator that will suit your specific need, to familiarize yourself with the calculator prior to the exam, and to know how to use each function on the calculator. 
The HP 35s Scientific Calculator ranges from approximately $45 – $55 and received more than 1,300 ratings on Amazon with an average of 4 and a half out of 5 stars.
Sources/Reference:
NCEES Calculator Policy
About the NCEES FE Exam
Choosing The Best FE Exam Calculator: 2021 Update
FX-115ESPLUS
TI-30Xa
TI-36X Pro
HP 35s
I hope you found this week's best calculator article helpful. In upcoming articles, I will answer more FE Exam questions and run through more practice problems. We publish videos bi-weekly on our Pass the FE Exam YouTube Channel.  Be sure to visit our page here and click the subscribe button as you'll get expert tips and tricks – to ensure your best success – that you can't get anywhere else. Believe me, you won't want to miss a single video.
Lastly, I encourage you to ask questions in the comments of the videos or here on this page and I'll read and respond to them in future videos. So, if there's a specific topic you want me to cover or answer, we have you covered.
I'll see you next week.
Anthony Fasano, P.E.
Engineering Management Institute
Author of Engineer Your Own Success