In this week's Pass the PE Exam article, I talk to a professional engineer, J'Que C. Jones, PE who is also the author of Pass The PE Exam In 3 Months: Strategies & Mindset For The Non-Test Taker. J'Que will discuss the strategies and mindset you need to be able to achieve that same success and pass the PE Exam yourself!
Here Are 8 Tips That Can Help You to Pass the PE Exam in 3 Months:
J'Que wrote the book, "Pass The PE Exam In 3 Months: Strategies & Mindset For The Non-Test Taker" so that people who are not "test takers" have a resource to help them pass the PE exam. He also wants to encourage diverse groups of people to believe that they too can pass the PE exam as he did.
1. Know Your Reasons for Becoming a PE
You must be sure and clear of your motivating reasons why you won't become a PE. It is not easy and you must put in a lot of time and effort into your preparations to become a PE.
2. Select the Appropriate Test for You
Be sure that the test you are taking is correct for you. Do not select a test because of what people are telling you, or because people you know selected a certain test. When selecting your test, look at your previous education, training, and work experiences, to see which test will work the best for you. Look at the exam specifications, the number of questions in different disciplines, and your knowledge of the questions, and conclude which exam will have the flattest learning curve possible for you. Do not select the test based on things you want to learn more about. Stick to what you already know.
3. Create a Study Plan
Having a study plan is crucial to ensure that you allow yourself adequate time to prepare. It helps you to lay out some structure and keep yourself accountable. Ensure that you have paid your preparation dues in advance. No plan equals failure. You will not be able to cover all the topics needed to write the exam which will cause you to miss questions.
4. Form Winning Habits
Human beings are creatures of habit and most of what we do daily is devoted to habits. Habits are extremely powerful and it takes 21 days to create or break habits. You have to control your habits and decide which habits you are going to feed. A winning habit is a habit that will help you to achieve the desired result. You must cut back on the non-winning habits, and try to create or adopt many winning habits when you are preparing for the exam.
5. Build Your Speed
You have approximately 6 minutes to answer a question on the test. Work on improving your speed by using repetition and practicing. Only allow yourself 6 minutes to answer each question or to solve a problem. Doing this will give you a better chance of passing because you will be able to answer all the questions in time. Also. when it comes to building speed, you must have an in-depth knowledge of the subject. There are many questions in the exam that you can answer quickly if you have a good understanding of the subject.
6. Learn From the Experiences of Others
Approach your studies with a razor-sharp focus and embrace any advantage that you can gain. Ask other engineers specific questions about how they prepared for the exam, what their experiences were, if they passed on the first try, what they did differently during the times they did not pass, and so on. Learn from the answers you get and incorporate them into your studying approach. You can either be smart or wise. A smart person makes mistakes, recognizes his mistakes, and learns from them. A wise person learns from the mistakes of others.
7. Prepare Your Body for Battle
Mimic the test environment as close as possible while you study. Study hard for long periods and aim for 2 hours at a time. Keep yourself accountable for any time you do not study in the 2 hours. The PE exam is a long test. It is 8 hours of sitting, thinking analytically and controlling your stress. You must get your mind and your body ready to endure the entire test.
8. Have a Test-Taking Strategy and Execute It
A test-taking strategy is not a one-size-fits-all parameter. Look for a few different strategies that you can practice and find what works best for you. It must allow you to answer all the questions and problems in the allocated time, and get positive results from it. There are many different test-taking strategies that you can follow such as focusing on the questions you know first, work the exam from front to back, and first answering the questions based on the structural problems. The strategy you follow is dependent on what works for you. Practice the strategy until it becomes like autopilot for you so that you can focus on the problems and not the logistics. Stick to the strategy you practiced and execute it when you write the test.
About J'Que C. Jones, PE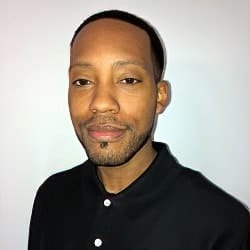 J'Que is a licensed engineer, who struggled with standardized tests his entire life. Through perseverance and dedication, his goal of attaining licensure came to fruition. His aim is to help other non-test takers and repeat takers of the PE exam attain their professional engineer's license, by providing anecdotes and proverbs from his own experiences as well as the experiences of others in a non-conventional and relatable way.
Books Mentioned in This Article
Pass The PE Exam In 3 Months: Strategies & Mindset For The Non-Test Taker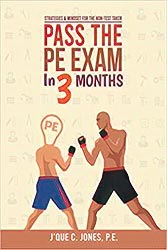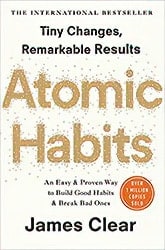 I hope you found this article helpful. In upcoming articles, I will solve some more PE exam practice problems and answer other questions from our subscribers.
Pass the PE Exam videos will publish weekly, so be sure to click the subscribe button so you don't miss something that could make a substantial difference in your exam result.
Lastly, I encourage you to ask questions in the comments of this video, or on this page and I'll read and respond to them in future videos. So, if there's a specific topic you want me to cover or answer, we have you covered.
I'll see you next week… on Pass the PE Exam
Anthony Fasano, P.E.
Engineering Management Institute
Author of Engineer Your Own Success