In this article (and video above), we talk to Mahbub Robin about his experience taking the FE exam. He tells us how, despite going through a lot of diversity and failing the exam the first time, he decided to take the exam a second time, and what he did differently this time around.
Here Are Some of the Questions We Ask Mahbub:
Tell us more about your educational background, and what field of engineering you are in?

An article called:

Cab driver. Harvard dad. Covid-19 victim

tells the story about your family, and how tragically, both your parents passed away. How did this experience influence your career?

What was it that you did differently the second time when taking the exam?
How can you study to learn the concepts as opposed to just memorizing equations?
Can you talk about the mental challenges of taking the FE exam a second time?
What kept you going through all of the adversity you faced in your career and life?
Here Are Some of the Key Points Discussed in This Episode:
During college, engineering students are so overwhelmed with taking test after test that they don't always have the time to get into important engineering concepts. This will affect you greatly when taking your FE exam as a lot of the concepts during the exam are connected to what you learn in college. 

It is no joke to work for 8-9 hours a time, and then still have to study for the FE exam. You don't always have the energy to study and absorb the knowledge needed to pass the exam after a long day's work. 

Because of personal matters, including losing both my parents and maintaining a full-time job at the time, I had little time to prepare for the exam and ended up failing the FE exam. 

I had to completely change my study habits because the way I was approaching my study habits that I had in college did not work for studying for the FE exam.

When studying for the FE exam, you have to understand the engineering concepts, and it has to make sense to you. If it doesn't make sense to you, it will show during your studies. 

In engineering, you get asked a question in numerous different ways so you have to be ready for whatever way the question is thrown at you. 

When studying most people look at the solution, try to make sense of it, and then do it. What I did differently was to first look at the question, and then attempted to answer the question. If you don't know how to answer the questions, it should immediately act as a signal to you that you might be lacking a concept.

Don't compete against other people when studying for the FE exam. Compete against yourself! Always try to be better than what you were yesterday and forget about what other people think. People have different strengths and weaknesses. Focus on your own strengths and figure out the person that you are. 

Set goals for yourself for each day when you are studying by breaking down your study schedule into small sections, and completing what you have planned for that day. Getting that done, will increase your confidence and encourage you to study more. 

There are certain topics that the Lindenberg books help you with, and certain topics they don't help you with. Besides the Lindenberg books I used when studying for the exam, I had to purchase another course that covered the subjects I struggled with. This course was a game-changer for and helped me to pass the FE exam. 

There are certain things in life that you can control, and certain things you can't control. Focus on the things you can control. In terms of the FE exam, you can control your calculator, all the questions you have to practice over and over again, and the topics that you are good at. You can't control the competitors, the curve, or what questions you will be getting during the exam, so focus on your strengths instead. 

I knew going into the exam that I will not be able to answer all 110 questions due to the time limit. Instead, I focused on the questions that I knew how to do. When you can't answer a question, flag it and move on to the questions that you know how to do. This will help you not to run out of time, and not wasting time on questions you can't complete.
Take each day, a day at a time. Break your life down into very small sections and feel proud of the small achievements. ~ Mahbub Robin
About Mahbub Robin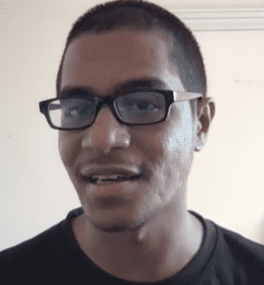 Mahbub is a mechanical engineer and dedicated tutor who loves helping students succeed in their academics.  He specializes in math, science and engineering courses and uses creative techniques and teaching methods to assist students in understanding concepts that are difficult to grasp.
I hope you found this week's article helpful. In upcoming videos, I will answer more FE Exam questions and run through more practice problems. 
We publish videos bi-weekly on our Pass the FE Exam YouTube Channel.  Be sure to visit our page here and click the subscribe button as you'll get expert tips and tricks – to ensure your best success – that you can't get anywhere else. Believe me, you won't want to miss a single video.
Lastly, I encourage you to ask questions in the comments of the videos or here on this page and I'll read and respond to them in future videos. So, if there's a specific topic you want me to cover or answer, we have you covered.
I'll see you next week.
Anthony Fasano, P.E.
Engineering Management Institute
Author of Engineer Your Own Success