In this article, (and video above), we calculate the velocity of a falling ball. A question on this topic would typically be found in the Dynamics section of the FE Exam and therefore will give you a better understanding of what you can expect during the exam. This week's problem was created and solved by Enrique Ivers, an Engineer in Training.
Question:
The velocity (in m/s) of a falling ball is described by the equation:

What is the acceleration at time t=2s?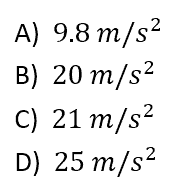 Solution:
[Read more…] about Calculating the Velocity of a Falling Ball | FE Exam Prep